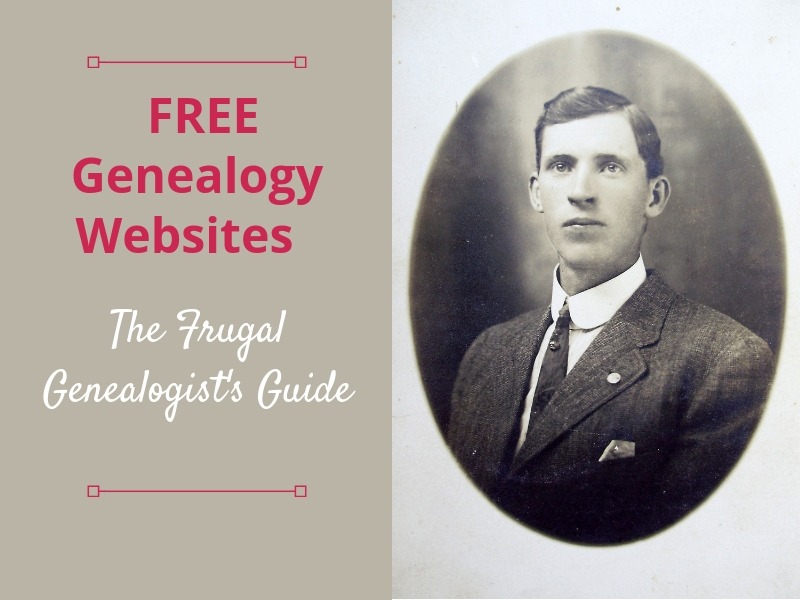 Free Genealogy Websites – A Frugal Genealogist's Guide
Is it possible to find our ancestors with using FREE genealogy websites?
As genealogy researchers, we are a frugal lot. We spend our genealogy dollars frugally and research for free whenever possible. After all, those DNA tests we plan to order can be expensive!
Let's see what free genealogy resources we can find online. Most of these sites require no sign up and no credit card.
50 FREE Genealogy Websites for Frugal Genealogists
Grab your research plans and start searching (and saving money).
1. FamilySearch.org – Long time favorite of genealogy researchers.
2. The USGenWeb Project – Volunteer based website providing online genealogy information. Another favorite of genealogy researchers.
3. Chronicling America – Search historic American newspapers.
4. Digital Public Library of America (DPLA) – Includes large digital collection of Family Bibles, photographs, Civil War records just to name a few.
5. New York Public Library – Over 750,000 items including maps, private family papers and photographs. These do not pertain just to New York residents. I've found records for my own North Carolina ancestors in these collections.
6. Digital Collections at State Archives – A growing number of archives are growing their digital collections. Explore the state archives where your ancestors lived. Two examples include:
7. Guild of One Name Studies – Resource website to find information on surname project studies. Check for your ancestor's surname, connect with other researchers or start a study of your own.
8. Free BMD – Free access to transcriptions of Civil Registration index of birth, marriages and death for England and Wales. This is an ongoing project so check back for updates.
9. Google Maps and Google Earth – Great resources for visualizing where your ancestors lived. I love a good map!
10. David Rumsey's Historical Maps – Fantastic (and large) historical map collection including maps from around the world.
11. RAOGK – Random Acts of Genealogical Kindness – A global volunteer organization that performs all types of tasks such as look-ups at local courthouses or taking a photograph of a tombstone. Volunteers may ask for reimbursement of their expenses (Ex. Postage), but never their time. Consider being a volunteer yourself!
12. Documenting the American South (DocSouth) – Collections of resources focused on the south and its people.
13. Google Books– Source of free books including county histories, family histories and topical books of genealogical interest. Books in the public domain available to read for free.
14. FindAGrave – Volunteer based source of gravestones and burial sites. [Unsourced genealogical information on individuals should be used as a guide and not as proven fact until confirmed by the researcher.]
15. Interment.net – Browse cemetery records by state.
16. Cemetery Census.com – Free listing of cemetery surveys. Information provided by volunteers.
17. Billion Graves – Volunteer based website photographing and preserving cemeteries.
18. Bureau of Land Management General Land Office Records – Federal land conveyance records for public land states from 1788 to the 1960's.
19. Library of Congress – Millions of books, maps, photographs and newspapers. Example: Find the Sanborne Maps there!
20. Ellis Island – Passenger list searches of immigrants arriving through Ellis Island available as well as immigration information.
21. Castle Garden – Passenger list search of immigrants arriving through America's first immigration center.
22. Internet Archive – A non-profit digital library offering free books. [I have found a number of old family histories and other relevant genealogy and history books.]
23. Patriot and Grave Index – SAR (Sons of the American Revolution) – Database containing grave and biographical information on patriots of the American Revolution.
24. Daughters of the American Revolution (DAR) – Database of information of patriots on whom their members have joined.
25. Jewish GenWeb – Excellent free site with databases and resource tools for researching your Jewish ancestors.
26. American Battle Monuments Commission – Information on over 200,000 burials and memorializations of predominantly WWI and WWII forces.
27. The UCF Africana Heritage Project – This site is currently receiving a make-over, but check back! It will be worth your time.
28. AfriGeneas – A website devoted to African-American genealogy research. Be sure and check out their online community, too.
29. Low Country Africana – African American Genealogy in SC, GA and FL – Beautiful website dedicated to African-American genealogy research of SC, GA, and FL ancestors.
30. The Freedmen's Bureau – Records of the relief assistance to African Americans and poor whites in the south post Civil War.
31. Digital Library of American Slavery – sponsored by the University of North Carolina at Greensboro (UNCG).
32. The Trans-Atlantic Slave Trade Database – Comprehensive source of historical data on the trans-Atlantic slave trade.
33. DeadFred.com – Browse the website for thousands of identified and unidentified photographs.
34. Moravian Archives – Research your Moravian ancestors here.
35. The Presbyterian Historical Society – A good place to start research of your Presbyterian ancestors.
36. Google News Archive – Research historic newspapers from around the world.
37. Elephind – Find free online historical newspapers.
38. Digital Library of Georgia – Find pertinent records such as historical newspapers, ledgers and more to finding Georgia ancestors. Tip: Explain university digital collections in the area or region where your ancestors lived.
39. The War of 1812 Pension Records at Fold3.com – At last check this project was ~74% completed. Check back regularly for updates.
40. Allen County Public Library – Genealogy Center – Large collection of genealogy related records to explore. Another favorite of genealogy researchers.
41. National Cemetery Administration – Nation-wide veteran grave site locator.
42. Soldiers and Sailors Database – Database of men serving in the Union and Confederate armies of the Civil War.
43. Olive Tree Genealogy – Free genealogy records for researchers.
44. RootsWeb.com – Large genealogy community! It's where I started years ago.
45. United States Online Historical Directories – Explore online historical directories by state. New to researching directories? Learn more here.
46. The Public Library of Cincinnati and Hamilton County – Search for your Ohio ancestors. Tip: Check large public libraries for free genealogy records specific to their location.

47. Free Ancestry.com databases – You'll be surprised by the number of free databases available. Both U.S. and world wide.
48.Free FindMyPast Databases – Includes U. S. census records and Ireland Roman Catholic Parish Records,
49. GenDisasters.com – Newspaper articles on events that touched your ancestors' lives.
50. YOUR Local Library! With your free library card you can access genealogy databases such as Ancestry.com for free. Check what genealogy related databases your local library has. For example, my local county library provides patrons with the library edition of Ancestry.com.
That's a lot of free genealogy websites! Do you have a favorite? Let us know in the comments below!
Other Posts of Interests
::::::::::::::::::
Post for Future Reference!