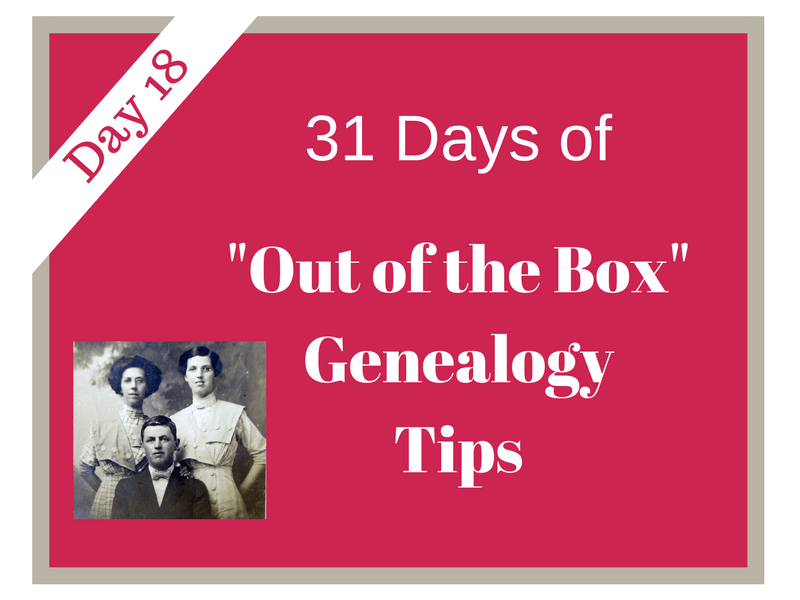 31 Days of "Out of the Box" Genealogy Tips – Non-Population Schedules
July 2018 is completely focused on providing you with genealogy tips that are …..well,…."out of the box".
Welcome to DAY 18 of the 31 Days of "Out of the Box" Genealogy Tips series! Need to start at the beginning of the series or catch up? Start here.
DAY 18 – Explore Other Non-Population Schedules
Non-population schedules were created along with the 1850-1880 census and were used to gather data on unique segments of the population. The purpose of the special schedules was to determine the types of resources the government needed, how to allocate them, as well as looking at public health issues.
If your ancestor appears on the non-population schedules, you have a unique opportunity to learn more about them as individuals and their role in their community. In addition, the information you learn from a non-population schedule can point you to new clues and record sources not previously searched.
Six types of non-population schedules were created:
Agriculture
Manufacturing/Industrial
Mortality – Day 17 talked about mortality schedules specifically!
Slave
Social Statistics
Find these non-population schedules most places you would access the regular census records such as Ancestry.com. FamilySearch had a few state non-population schedules as well.
Now It's Your Turn!
Explore one or more of the non-population schedules for your ancestor(s).
Check out previous posts in the 31 Days of Out of the Box Genealogy Tips:
::::::::::::::::::
Pin for Future Reference!