How to Find Your Ancestors' Divorce Records
I find reading through 19th century court records to be fascinating.  Much more exciting that reality TV.  And really,  the current generations aren't doing anything new.
Scandals existed then, too.
Abuse. Debt. Abandonment. Lack of support. Divorce. (Yes, a woman was looked down upon for seeking a divorce except in extreme cases.)
Our ancestors just did not broadcast their news through social media!
Finding our ancestors marriage records is one thing. These is one of the first thing a researcher searches for.
But….what about when our ancestors did not live happily ever after?
What about when they divorced?
Several of you reported to me searching potential divorce records for your ancestors was one of your biggest frustrations.
Let's take a look at how we can make it easier.
Where do You Find an Ancestor's Divorce Record?
Divorce at one time was considered extreme and even scandalous, but a husband or wife could seek a divorce.
The search for divorce records is time consuming and even tedious.  Like most genealogy searches, the possibility of success keeps us searching.
As with any type of record or event in your ancestor's life, know the laws and the day's custom before you start researching. In the 19th century, married women held no legal status separate from her husband. She was a femme covert.  Wives could be named in suits brought against her husband and any land she owned prior to marriage became her husband's.
Note: A single woman were considered a  femme sole.  She could own land, sue, be sued and petition the court.
Marriage records are found in the state's vital records office.  After a certain period of time, these records are usually moved to the vital records collection in a state's archives.
Divorce records in the 19th century were not part of the vital records.
Divorce records were recorded in county courts or state legislative records.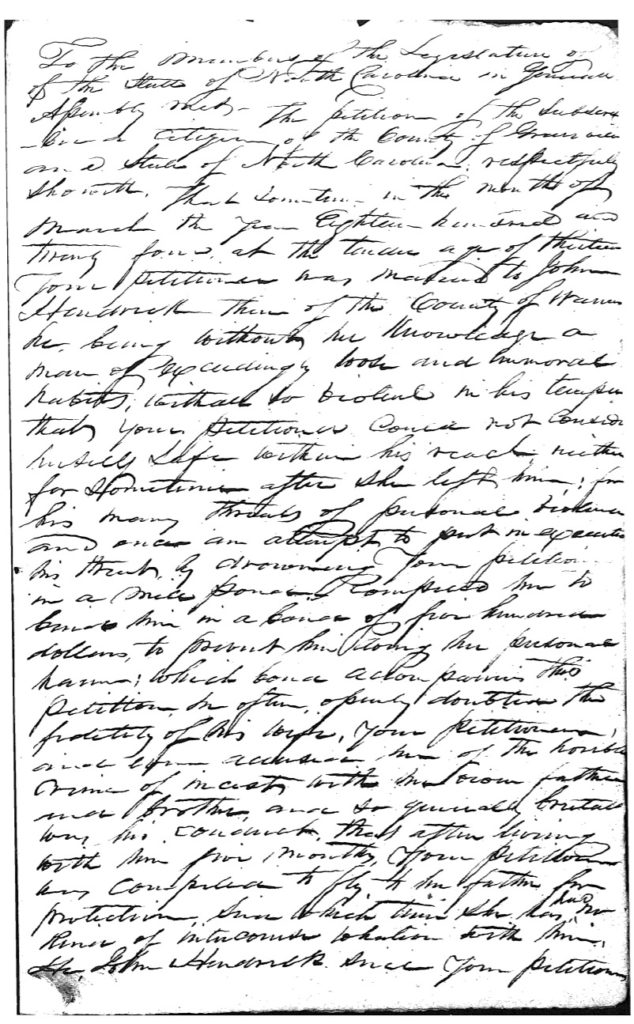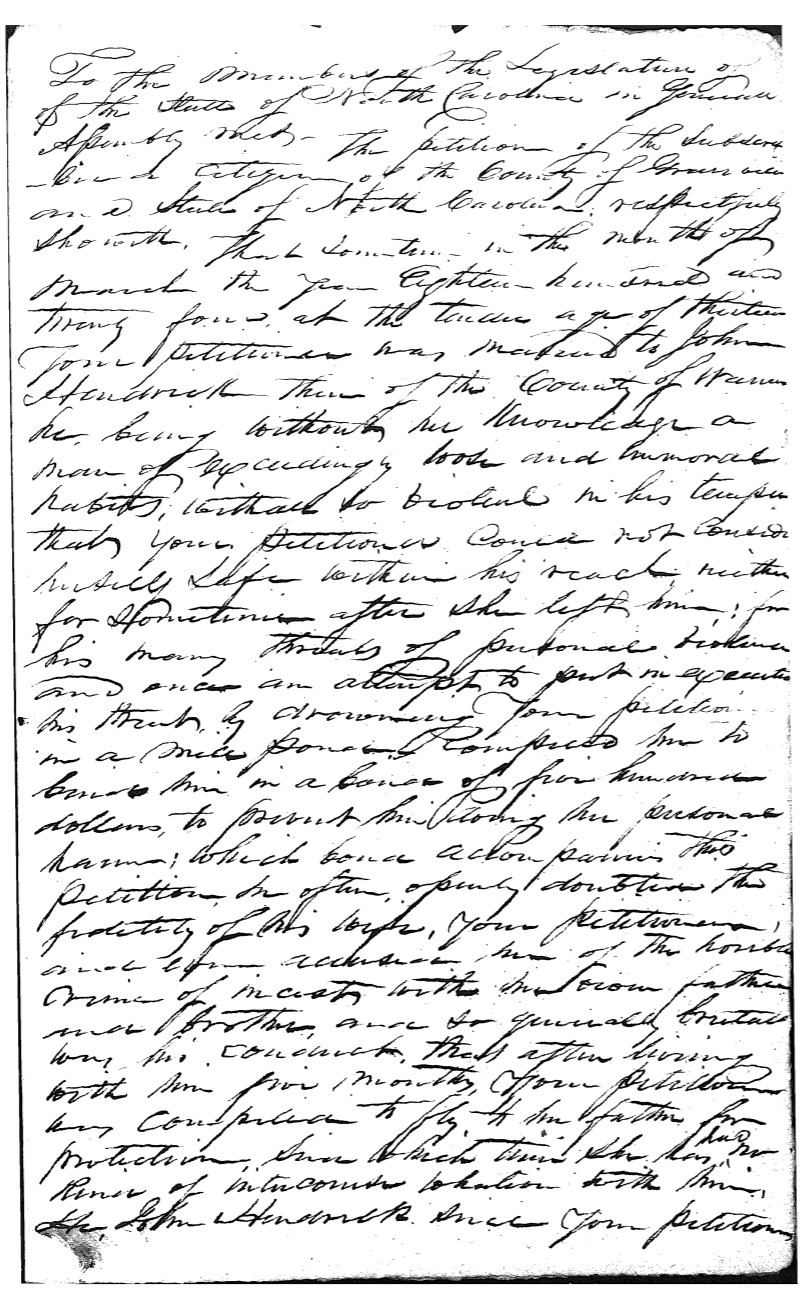 This is an example of a divorce petition to the Legislature of North Carolina made by Lucy Hendricks .

Lucy Hendricks petitioned the North Carolina General Assembly for divorce from her husband John Hendrick of Warren County.  Lucy married John Hendrick at "the tender age of thirteen".  John proved to be an abusive husband even threatening to drown Lucy in a mill pond. Lucy left  John and returned home to her father.  She pursued a legal divorce to be able to marry a respectable man. From the record, it is unclear if Lucy received her divorce decree.
In 1818 Charlotte Street of Orange County, NC petitioned the North Carolina General Assembly for a divorce from her husband.  Her husband had abandoned her due to debts.  Charlotte sought a divorce or if no divorce, protection against his debtors so she could support her children.
Tips for finding divorce records in state legislative records and county court records.
Talk with a state archivist to learn which collections (state level or county level) the divorce records for your specific ancestor in a specific time are located.
Determine if finding aides such as indices or abstracts exist.
If so, use these aides to find the original record….Success!
If no finding aide exist, start reading.  Narrow the date down based on your research  of the married couple's lives and read the records for that time period. (This is the time consuming part I talked about earlier!)
If you do not find a record of divorce for your ancestor in the records you search, you benefit from learning about that record source.  You will gain an better understanding of the communities and state politics that affected your ancestors.  This is important knowledge to tuck into your genealogy toolbox to possibly use at a later time.
Subscribe to Get the Free Copy of The Big Genie List
Get weekly genealogy emails & instant access to the free resource list!
The Big Genie List is full of resources, databases and educational opportunities to assist you in your search to find your ancestors.
And...it's FREE!
Now it's YOUR turn.  Make your research plan.
Learn as much about your ancestors in traditional records.
Narrow down a possible date range for a divorce.
Find out where those records are and figure out how to access them.  [If you are not able to research the needed  records in person, here are some tips for researching when you can't travel to the site.]
Pin this for future reference!
(Psst….If you need help shopping this holiday season, here's a handy-dandy Genealogy Gift Guide.)