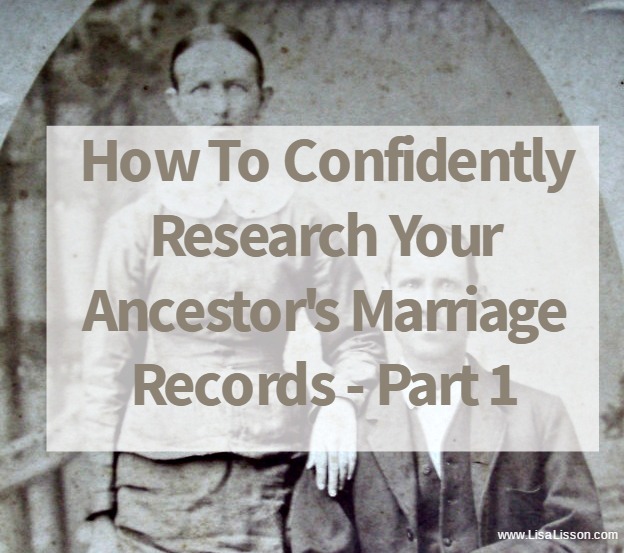 How To Confidently Research Your Ancestor's Marriage Records – Part 1
I heard from many of you, my reader, about the frustrations of find a marriage record or other proof of an ancestor's marriage.  I am right there with you. There continue to be ancestors in my family tree for whom I have not yet found a proof of marriage. For many of you this can delay or prevent the acceptance of a lineage society application.
Frustrating?
Absolutely!!
Let's just not admit defeat yet, until we have looked at all of our options.
Before You Even Start Your Marriage Record Search
As with other types of records (i.e. birth, death, etc) be familiar with what the law required of your ancestors in regards to marriage.  What were your ancestors required to do to get married? What type of record was required?  Also, what was the typical custom of the day in your ancestor's particular community and/or religious affiliation.
For example, in Virginia prior to 1853, marriages were recorded by the ministers and county clerks. The minister sent his records of marriage to the county clerk. In many areas, this was done only every few months or even once a year.  Compliance was inconsistent on the ministers' part and so, it is understandable how your ancestor's marriage is not found in the record.
In 1853, the General Assembly passed a law for statewide recording of marriages.  If your ancestor married before 1853 in Virginia, there is no reason to search for a marriage record at the state level.  Search for the marriage record at the county level or church level. After 1853 in Virginia, you can search for a marriage record at the state level, too.
     >>>>>>>>>>>>>>>>>>>>>>>>>>>>>>>>>>>>>>>>>>>>>>>>>>>>>>>>>>>>>>>>>>>>>>>>>>>>>>>>>>>>
Golden Nugget Tip:  Do not skip learning about the types of records your ancestors would have created in a specific time and location. This can save you lots of time and frustration.
>>>>>>>>>>>>>>>>>>>>>>>>>>>>>>>>>>>>>>>>>>>>>>>>>>>>>>>>>>>>>>>>>>>>>>>>>>>>>>>>>>>>>
Types of Marriage Records
Marriage records can be divided into two basic types:
Intent to Marry
Actual Marriage
INTENT TO MARRY RECORDS
Intent to Marry records indicate a bride and groom's intention to get married.  This type of record's purpose was to ensure there was not legal or religious reason the couple could not marry.   Impediments to the records could include: one of the couple was already married or the couple was related too closely.
Banns – Marriage Banns (Bans) were a part of the Christian parish church and were typically associated with the Anglican and Catholic churches.  The banns were read for three Sundays in a row, and if there was not objection, the couple was then able to marry.
Bonds – The marriage bond was a bond by the groom and co-signed by a bondsman that there was no legal reason the intended marriage could not take place. Technically, a marriage bond only indicates the intent of a marriage and not proof that the marriage took place. (Note the bondsman (bondmen) named on a marriage bond.  These individuals were frequently family members. )
Finding your ancestor's marriage bond is always a genealogy "win", but I always want "more" than the basic information they provide.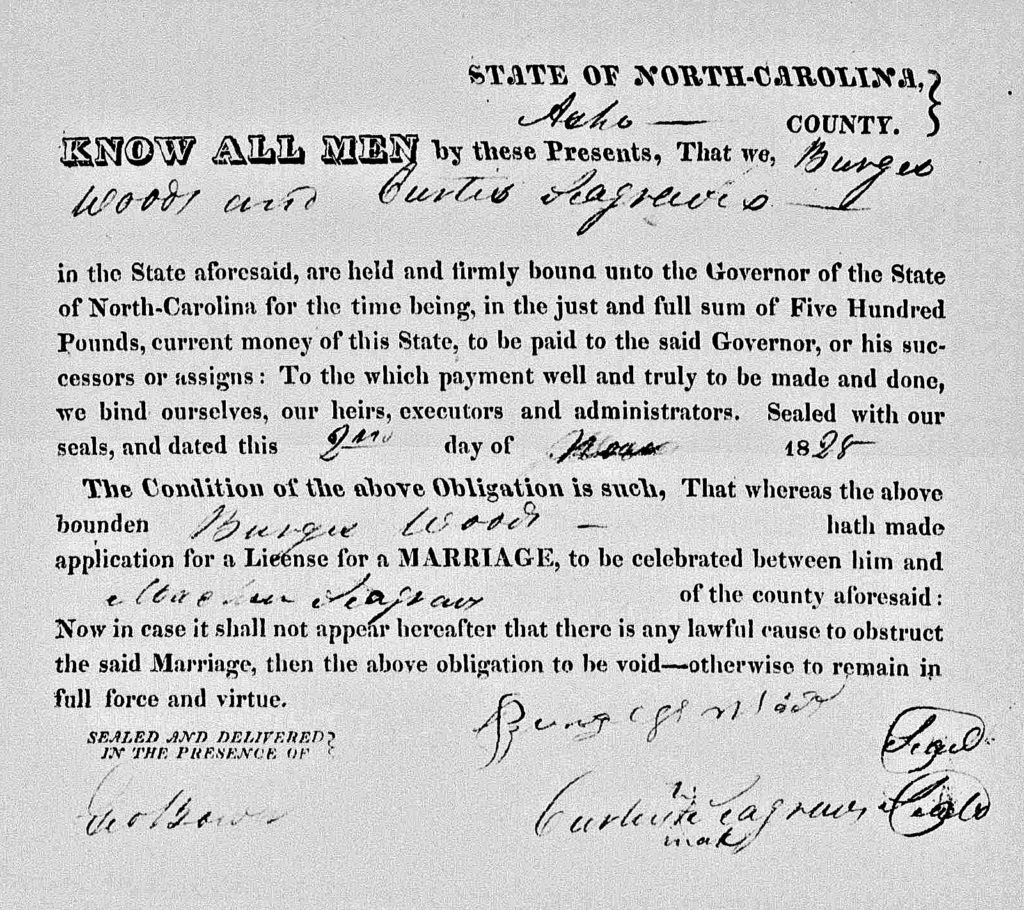 Marriage License or Marriage Registration
Eventually, the marriage license replaced the common use of marriage bands and bonds.  Marriage licenses are fantastic records for the genealogist.  These often provide more information about the bride and groom than on the banns or bonds.  For example, the couple's parents may be named, where they lived,  their occupations, etc.
While intent of marriage records do not show the actual marriage took place, using them in conjunction with other records (census records, wills/estates, etc) where husband and wife are mentioned will support the marriage took place.
ACTUAL MARRIAGE RECORDS
These records were created when the marriage took place.
The personal records of the couple – The couple often recorded their marriage in a Family Bible.  Check with family members and see if one exists.  The couple's marriage may be  recorded in a Bible they start when they began housekeeping or may be found in the Family Bible of a parent or sibling. Refer to How to Determine the Birth Date of Your Ancestors for places to search for the family Bible.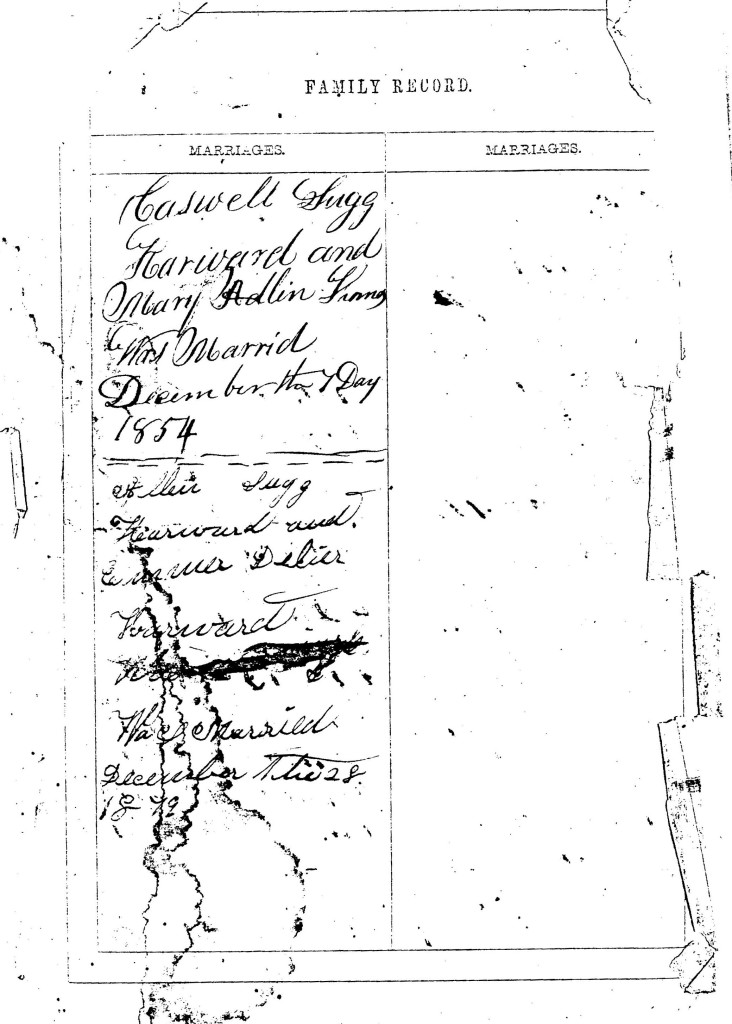 The marriage certificate – This was retained by the couple, but the county clerk often retained a copy. When asking family members about the family Bible, ask them about family records retained within the family.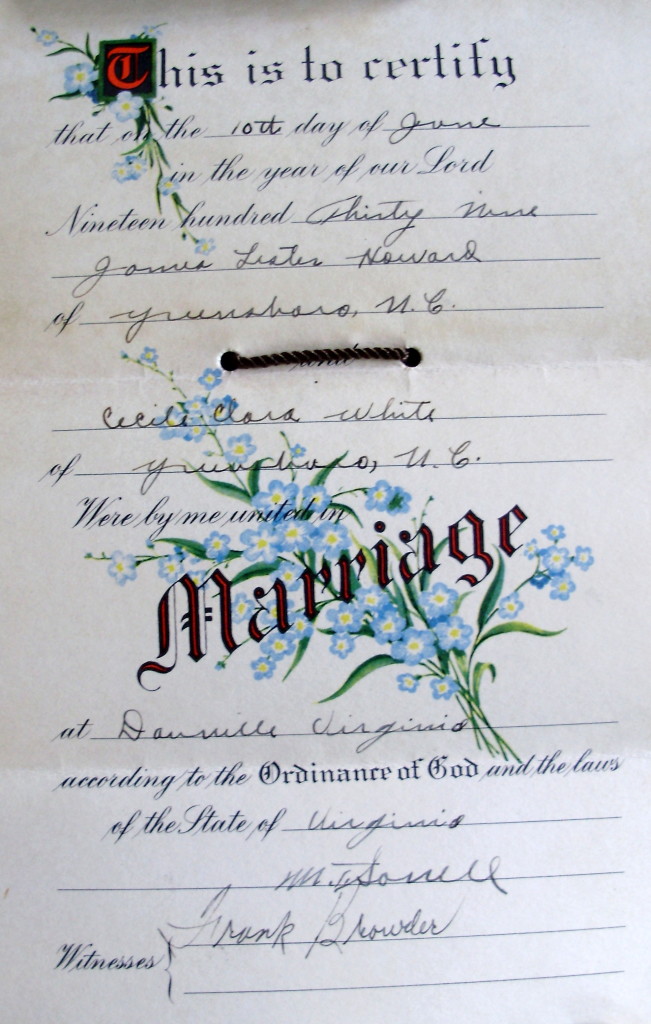 Registers (or Returns) – The county clerks often recorded marriages for their county in a register.  The couple's name, marriage date, witnesses and who performed the marriage are usually included.  These are often found at the county courthouse or state archives as well as online databases.
This is an example from the Halifax County, Virginia Register of Marriage for the marriage of S.C. Haley and Mary A Tribble. Notice the couple's parents are listed on page 2!


Church or Religious Records – If your ancestor was married in a house of worship, the church may have recorded this in their records.  Personally in researching, I have not found these in the small rural churches, but find them in the Catholic and Anglican parish records more often.
Where to Look for These Marriage Records
County level records – Look for marriage licenses, registers , bonds and minister's returns in county records.  These may be at the county courthouse and/or in the state archives.  Various collections can be found in online databases such as Ancestry.com, FamilySearch.org or FindMyPast.com.
Parish records – Look for the marriage bann records here. Check state archives as well as the online databases.
Family records – Don't forget to ask your family (even the distant ones!) for a family Bible and/or old family records.
Be sure and watch for the next post on marriage records soon.
Share you success in searching your ancestor's marriage records in the comments!
Please note that this post contains affiliate links which means I may earn a commission if you decide to purchase a product/service. This does not cost you extra. Be assured I only recommend products/services that I use and think you would like too.
:::::::::::::
Pin For Future Reference!