10 Reasons To Use CCC Records in Your Genealogy Research
The Civilian Conservation Corps (CCC) was a public relief corps dating from 1933-1942. Part of the New Deal by President Roosevelt, this program was specifically for unmarried and unemployed men. The men of the CCC worked to build roads, parks and improve other lands and natural resources.  The men were organized into camps throughout the country.
James Lester Howard of Lee County, North Carolina was the perfect CCC candidate.  In 1933, he was 18 years old, unmarried and unemployed. Having lost his mother at a young age and having a father who worked construction away from home, Lester and his siblings moved from relative to relative over their childhood years. Lester joined the CCC after learning about the program from a local man. The CCC provided a way for Lester to work and help support his siblings as well.  In return for working in the CCC, Lester received $30.  Of the $30, he was required to send $25 back to a designated person in the family for support of the family and he kept $5 for himself. Lester felt "rich" for the first time.
Types of Information Found in CCCR Records
Records were kept on each man who joined the CCC.  These records can provide a surprising amount of information on your ancestor.
Location of your ancestor in time and place
A birth place and birth date
A physical description
Medical history including innoculations
If naturalized, when and where
Level of education
Family makeup and designation of who was to receive monthly allottment of $25.
Service in the CCC – where and when they served
A look into their character (letters of recommendation)
Their future address upon discharge
Example of a CCC Record
Below are the discharge papers for James Lester Howard. (Lester was my grandfather.) What can be learned about Lester from these?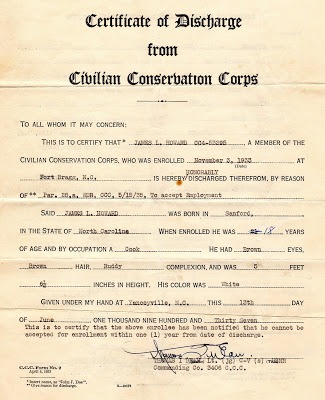 He joined the CCC on 3 Nov 1933 at Fort Bragg in NC. [Time and place]
He was born in Sanord, North Carolina and was 18 in Nov 1933. [This provides a place of birth and a birth year of 1915.]
He was a cook. [Occupation.]
He was 5′ 6 1/2″ tall with brown hair, brown eyes and a ruddy complexion.  [Physical description]
Dates and locations of camps where Lester worked. [Occupation and place and time]
Remarks: "He performed his duties as a cook in a very satisfactory manner."  [Character]
He was innoculated against typhoid and was immune to smallpox. [Medical history]
Future address of Sanford. [Future address]
Date of discharge: 13 June 1937.
Where to Find CCC Records
Look for your ancestor's personal records and papers
"Happy Days" newspaper on Ancestry.com.  Happy Days was CCC's own newspaper and provides a glimpse into the life of those serving in the CCC.
Want to learn more about the CCC and the role it played in your ancestors' lives? Several years ago, PBS aired a  lauded documentary on the CCC camps. Check it out.
Was your ancestor in the Civilian Conservation Corps? If so, explore their CCC records.
Leave a comment below and let me know what you find!