Please note that this post contains affiliate links which means I may earn a commission if you decide to purchase a product/service. This does not cost you extra. Be assured I only recommend products/services that I use  and think you would like too.
Christmas is coming …. fast.  Much quicker than I can comprehend. I am already fielding questions from family about Christmas lists.  I am also receiving questions from friends who are looking for unique genealogy gifts for the genealogist in the family.  Below are some gift suggestions for the genealogist on your list.
Gift Guide for the Genealogist 2014
1. The Flip Pal Mobile Scanner – This is a great little mobile scanner for the genealogist to take with them "on the go".  It is perfect for scanning photographs when visiting relatives over the holidays.  The Flip Pal is definitely something to go in my genealogy toolbox. [Update: Free shipping on orders over $170.]
2. Have a little coffee with your personalized Genealogy  mug.  This is a fun and very unique gift for any genealogist and non-genealogist, too.  Who wouldn't want a coffee mug with a copy of the census record of an ancestor? [If Santa doesn't bring me one, I'm ordering one for myself!] This mug is actually created on a photo gift website such as Shutterfly.
3. Family Tree DNA Test – Need help breaking through some genealogical brick wall?  DNA testing is another tool for your genealogy toolbox. (This is definitely on my Christmas list. Hint, hint, Santa!) [Update: Holiday sales through December 31st. Start saving now!]
4. Personalized Charm Bracelet – This charming personalized bracelet features five photographs of your choosing. Imagine a bracelet featuring five generations of your family.  Of course, photographs of your children/grandchildren work great, too! [This item is featured in my Etsy store Esther's Place.]
5. Miniature "Family Tree" Christmas Tree – This miniature tree features custom photo ornaments of your family.  Celebrate the holidays with your very own Family Tree.  [This item is featured in my Etsy store Esther's Place.]
6. Books – What genealogist does not love books?  Whether e-books or "hold in your hand" books, you cannot go wrong with books.  Just a sampling might include: North Carolina Research: Genealogy and Local History
 by Helen Leary (a must if you have NC ancestors), Dictionary of Old Occupations
 by Jane and Paul Hewitt, Photo Organizing Practices: Daguerreotypes to Digital
 by Maureen Taylor, and Family Photo Detective: Learn How to Find Genealogy Clues in Old Photos and Solve Family Photo Mysteries by Maureen A. Taylor (Feb 12 2013)
.  This is just a sample of some fabulous books for genealogists. [Update: Use promo code HOLIDAY30 for 30% off print books through Nov. 30th.]
7. Family Tree Wall Chart by Family ChartMasters – Lovely family tree charts to display in your home.  You will need to start early on this one!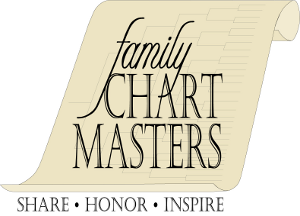 8. Family Tree Magazine – This is a great magazine for the genealogist in the family.
9. A fabulous necklace or other piece of  "tree" jewelry from Barb's Branches (an Etsy shop). Use the coupon code LISAGIFTLIST2014 at check out for 15% off your purchase! (This offer is good through 31 December 2014.)
10. Archival Storage supplies are a great git for the family historian. Many can be found locally at stores such as The Container Store.
Have a unique gift idea for the genealogist on your list?  I'd love to hear your ideas!